Inclusive Organizations
Understand the knowledge and mindsets needed to lead an inclusive workforce
IT'S TIME TO SUCCEED
Sensitivity and skills training are typically the focus of most DE&I initiatives; however, they are not enough by themselves. To succeed, Diversity, Equity & Inclusions initiatives need to focus on both organization-level and individual-level considerations. Many organizational initiatives fail because they do not provide leaders and managers with comprehensive knowledge of what is expected from them to act on diversity, equity and inclusion.
The Inclusive Organizations Series contains a library of over 50 modules (Touch Points) organized within 3 Learning Tracks for:
The Inclusive Leader Series
The Inclusive Manager Series
The Inclusive Employee Series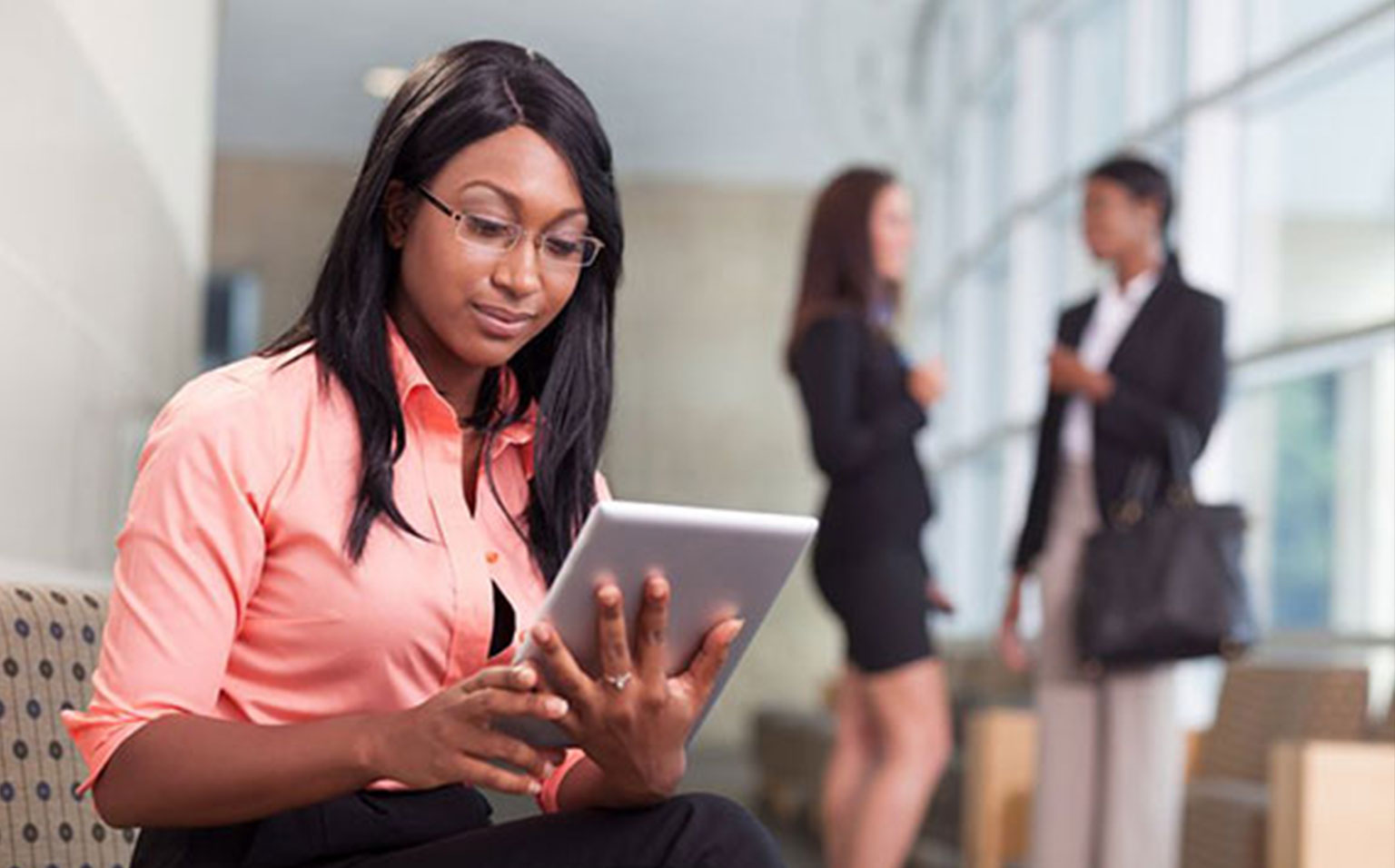 The Inclusive Organizations Series focuses on individuals
and the organization.
Develop the interpersonal skills needed to bridge identity differences and work in more effective ways
The Five Pillars
The Inclusive Organizations Series is built upon five pillars that provide a comprehensive understanding of the knowledge and mindsets leaders need to lead an inclusive culture. Many diversity, equity and inclusion initiatives overemphasize one or two of the pillars, excluding others. All learning in the Inclusive Organizations Series covers the knowledge and assessments needed to act on the five pillars.
Scanning
Regularly examining the organization's external and internal environments to learn about identity-related trends and issues that may affect the agency's success in accomplishing its mission.
Strategy Development
Developing appropriate business strategies to respond to the identity-related trends and issues identified in the environmental scanning process.
HR Systems Policies and Practices
Assessing how each of the organization's key systems support or detract from an inclusive work environment.
Self-Awareness
Helping everyone in the organization understand their own personal identity dimensions, sensitivities, and biases and how their identity-related perceptions are influenced by the larger society in which they live and work.
Social Sensitivity Development
Increasing our understanding of what it is like to be a member of social identity groups different from our own.
Analytical Tools
To help shape long-term organizational strategic thinking about inclusion and innovation
Self-assessment Tools
To help staff at all levels of an organization identify priorities for development and action
Team or Organizational Data
To make better diversity, equity and inclusion decisions
Facilitated virtual learning
To help your leaders, managers, and organization act on diversity, equity and inclusion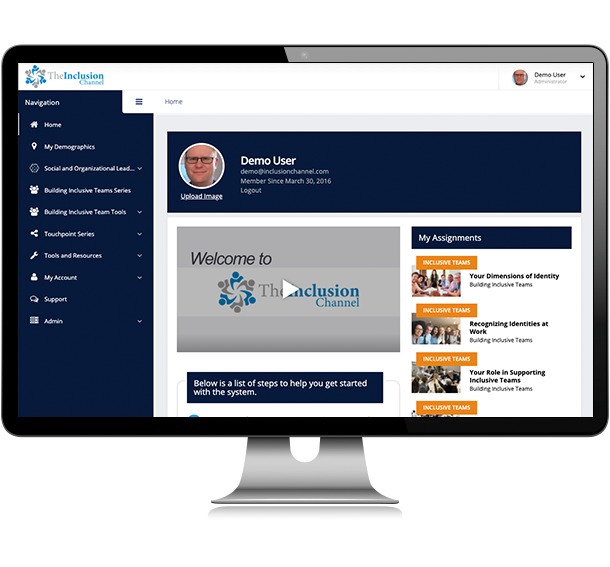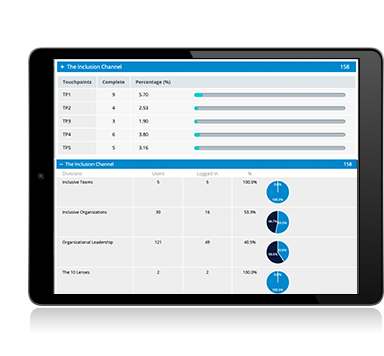 Assessments and Data
Drive Organizational Development
When leaders and managers are learning through the Touch Points, so does the organization. Organizational assessments are embedded within various Touch Points and will automatically aggregate data to create periodic feedback to the organization's leadership and stakeholder groups about how employees view the organization.
This feedback will help identify potential issues before they become major challenges or to fine-tune diversity, equity and inclusion programs and initiatives and help shape long-term strategic thinking about diversity, equity and inclusion.
Request Demo