Building Inclusive Teams
Recognize Differences and Connect Through Commonalities
CONNECT AND COLLABORATE
The Building Inclusive Team Series emphasizes a work culture that recognizes employee differences while connecting employees through their commonalities. Through the integration of independent and peer-to-peer learning, coupled with guidance from expert consultants, coaches, and facilitators, the Series' tools provide unique insight into teams and organizations' compositions. By using these valuable insights, managers create inclusive working environments where teams increase their abilities to:
Develop awareness of personal and cultural identity issues important to each team member.
Share accountability for monitoring and maintaining team norms that create an effective team culture.
Continuously measure and improve team chemistry to foster innovation with On-Demand and Pushed Performance Enhancement tools.
Engage with our unique team of qualified Organization Development and Industrial/Organizational Psychologists, researchers, authors, and Diversity, Equity and Inclusion practitioners during program implementation.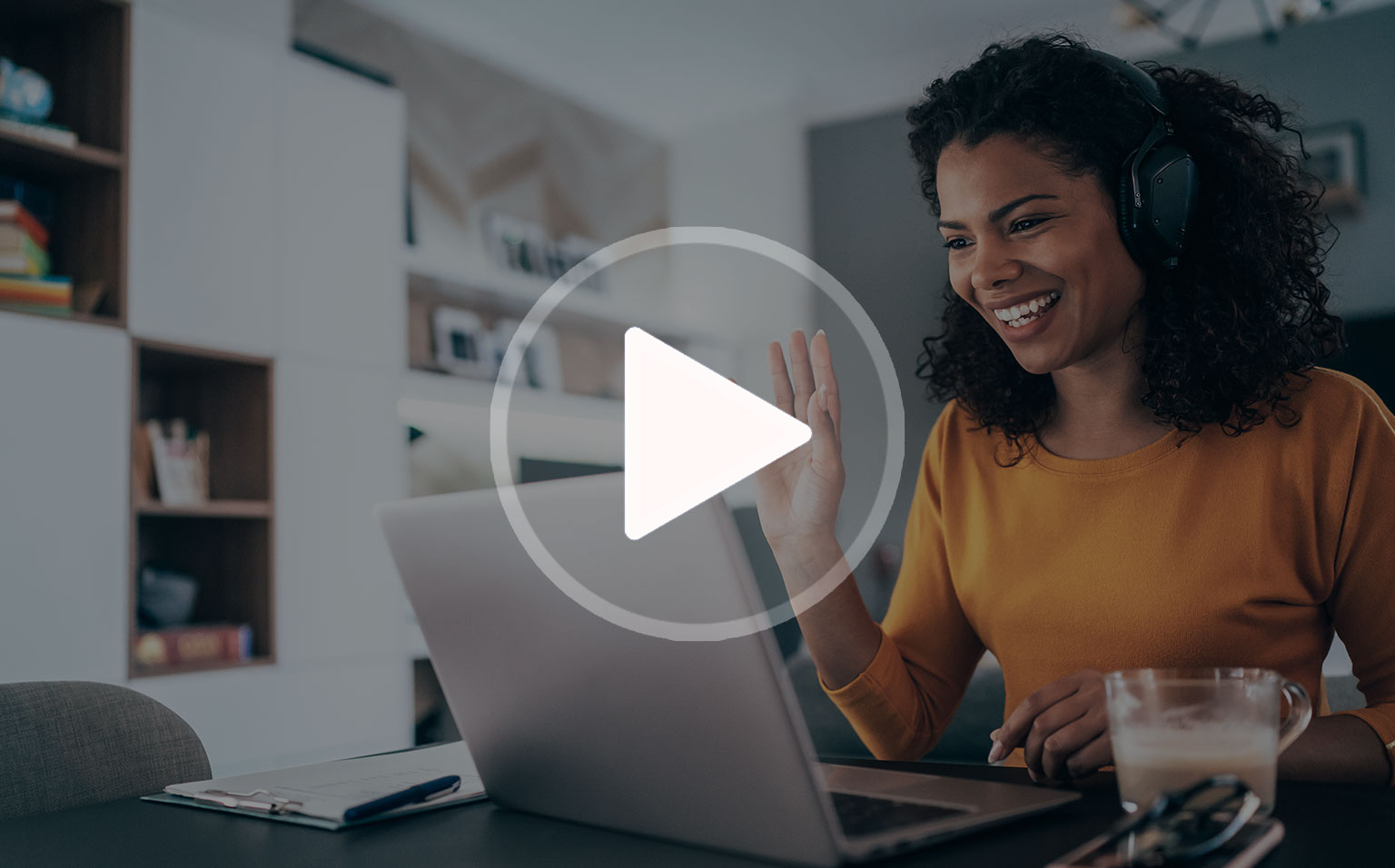 Recognize differences while connecting through commonalities.
Independent and team learning, online tools, virtual team sessions, and guidance from experts
The Building Inclusive Teams Series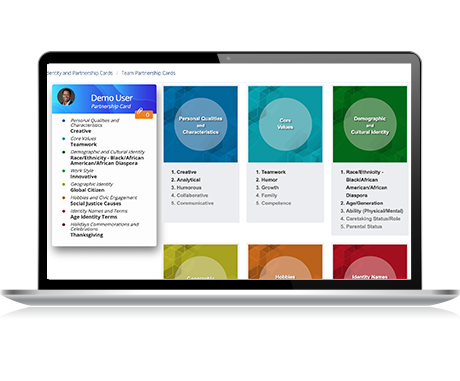 Identity Cards
At the core of the Building Inclusive Teams Series are eight self-reported Identity Cards that colleagues complete online in a private and secure environment. The Identity Cards ask each employee to consider their:
Personal Qualities and Characteristics
Core Values
Demographic and Cultural Identity
Work Style
Geographic Identity
Hobbies and Civic Engagement
Identity Names and Terms
Holidays, Commemorations, and Celebrations
Identity Cards provide an engaging way for team members to:
Increase their self-awareness about aspects of their own identity.
Recognize the differences and commonalities among their team members to enable the team to work with one another respectfully.
---
Facilitation Guides
Facilitation Guides for each Identity Card session lead internal or external consultants in facilitating conversations and data sharing among learners. Over time, employees participate in facilitated discussions based on those Identity Cards targeted by the client/manager.
Team conversations, usually three hours, encourage open dialogue between team members and foster a climate of inclusion and engagement. During conversations, team members review their team norms and explore ways to improve team scores. Eventually, through self-assessment, increased knowledge and sensitivity, team assessment, data analysis, and team conversations, teams increase their ability to interact skillfully across the many aspects of their team members' individual and group identities.
These Facilitation Guides allow facilitators to design discussions throughout the year (often as a regular part of standing meetings).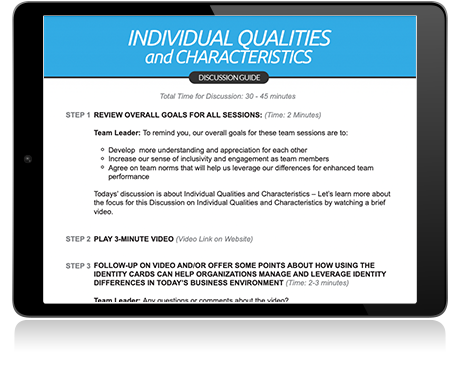 ---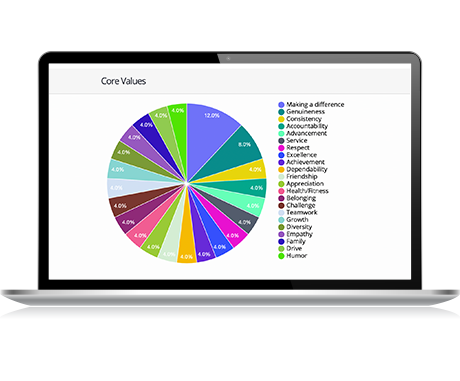 Team Data
The eight Identity Card assessments are compiled in a database which provides graphical reports on team composition. Team members review and identify key similarities and differences between team members that will improve their ability to work together effectively as a team. It is an engaging way for managers and team members to learn more about what is key to each member and build and capitalize on group intelligence. This data helps team members build relationships across many identity differences.
Data analyses also allow managers and team members to identify trends within their teams that can create barriers to inclusion and engagement.
As an example, using the Holidays, Commemorations, and Celebrations Identity Card data, managers will know which specific holidays are celebrated by which team members. Having access to this information will bring a new level of awareness to team members and promote an open environment.
---
Inclusion Norms Tool
This web-based tool assesses up to 10 team statements that contribute to inclusion and engagement on work-teams. We collaborate with clients to determine which norms statements support specific goals for your organization. Managers can gauge their team's mood and perspectives by following up with quarterly assessments. Building Inclusive Teams strengthens workgroups by helping each team assess and develop its inclusion norms. It also allows the team to:
Identify, explore, and weed out formal and informal norms that create barriers to team members' success based on various dimensions of their identities.
Share responsibility for developing and maintaining norms that will create an inclusive and innovative team culture.
Continuously measure and improve the team's progress by adopting the norms team members have agreed upon.
Establish team inclusiveness goals that the entire team shares responsibility for achieving.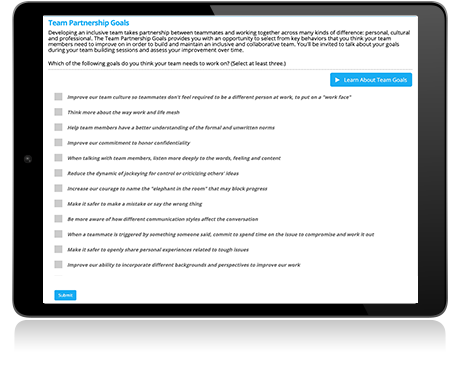 ---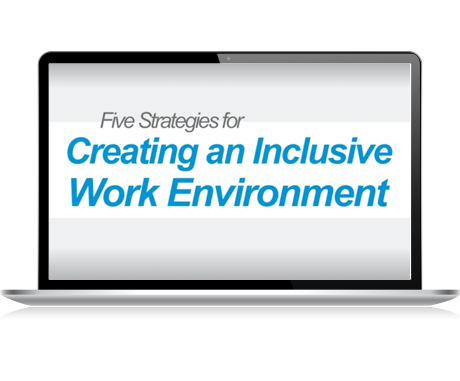 Tools and Resources
Several engaging and practical tools and resources are available to support and extend the life of the Building Inclusive Team Series, such as:
Best Practices
Global Holidays and Celebrations
Identity Names and Terms
Identity-Related Travel
Micro-Learning Videos
Quick Takes
Blended Learning
Engagement through independent, self-reflective learning and facilitated team learning
Quick Takes
Fluency in the language and issues of the day through 2 - 3 minute animated slide decks
Discussion Guides
Conversations with your colleagues and team members to increase your team's inclusion and identity intelligence