Blended Learning
In-Person

—

Virtual

—

Digital
The Inclusion Channel connects experiences with people.
Our platform integrates in-person and virtual experiences into online modules, forums and resources built for practicing and applying real-world leadership skills throughout the year.
Explore our off-the-shelf learning programs or talk to us about tailoring our programs to meet the specific learning needs of your organization or team. Discover our on-line tools that introduce pre/post-modules to extend in-person or virtual learning.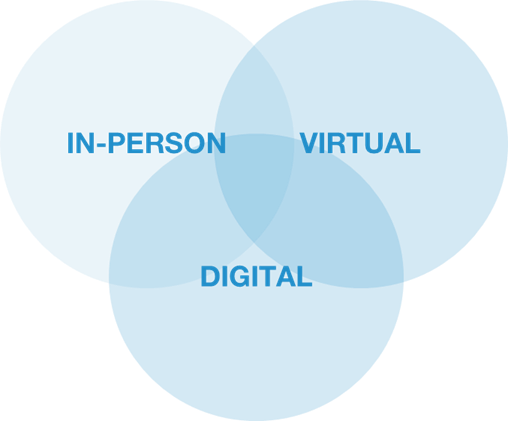 DE&I in a Rapidly Changing World
Leaders explore current DE&I issues, forces, dynamics, concepts, and conflicts impacting the workforce and communities as they gain the skills and confidence to play their role in today's challenging DE&I initiatives
Leader's Dialogues on DE&I and Identity
Leaders learn about current forces, issues, topics, and leaders' roles in advancing DE&I in today's workforce
The 10 Lenses in an Identity-rich World
Employees learn about the presence of 10 Lenses – or belief systems– that shape the way individuals, organizations and society frame race, ethnicity, and culture, and how those beliefs affect systems and organizational culture
Inclusive Leaders
Leaders and Managers gain the understanding of systems and practices that promote inclusive teams
Building Inclusive Teams
Leaders learn to acknowledge employee differences while connecting them through their commonalties
Social and Organizational Leadership
Leaders understand the nexus of business and community in today's complex social environments
Organizational Fit
Managers learn to identify, assess, and eliminate the formal, informal, and unwritten norms that create barriers for employees in an identity-rich working environment
New Mindsets and Abilities in an Identity-rich World
Learn the cycle of the "6 R's" and practice ways to employ them in every DE&I interaction